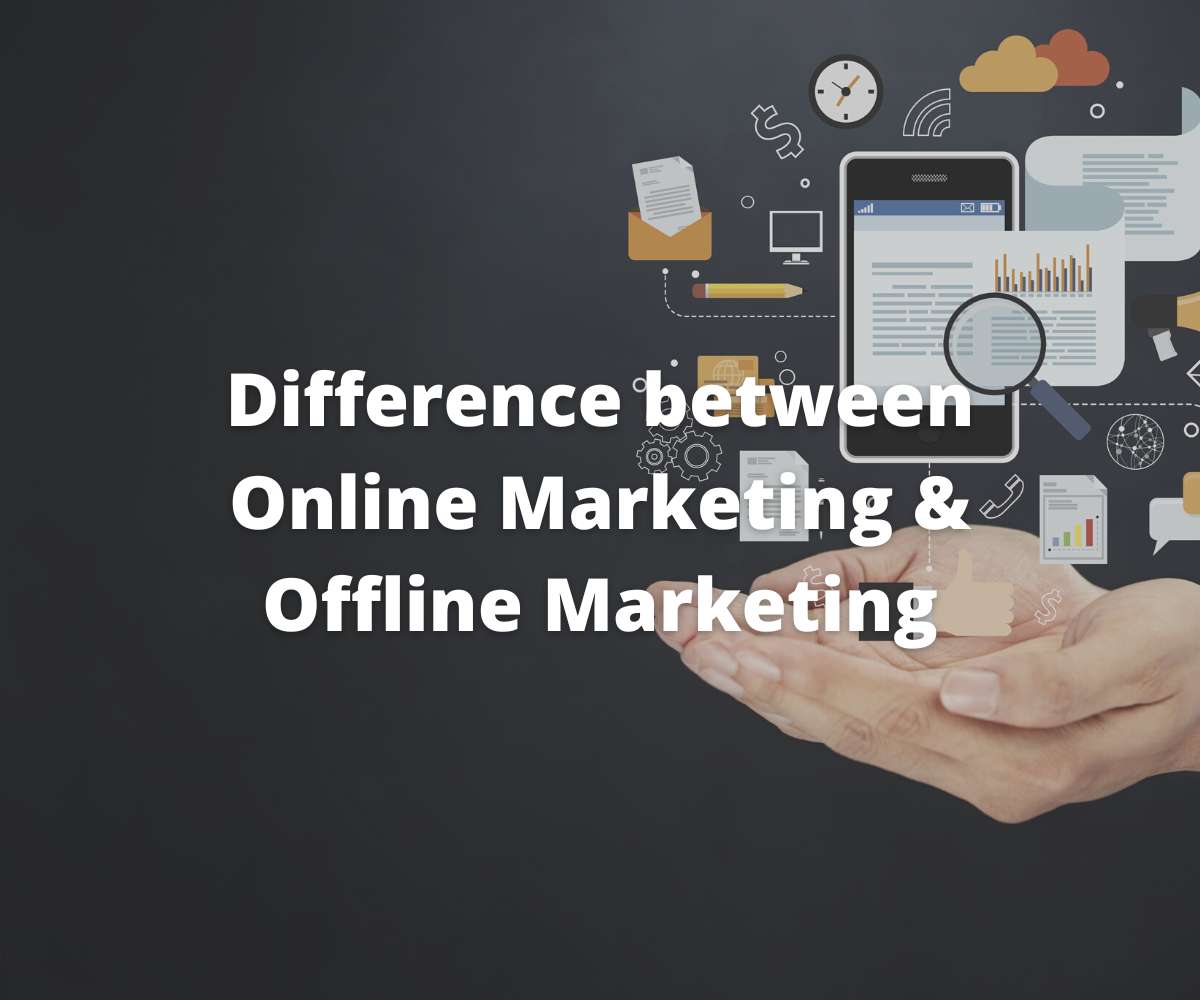 Online Marketing vs. Offline Marketing
Marketing is the only essential tool every business owner needs for a successful business. Marketing strategies bring out new consumers, profits, sales, and many long-term benefits for the business.
Earlier, marketing was conducted using traditional sources like radio or TV advertisements, cold calls, billboards, flyers, printing and distribution, and many more.
Although these were quite expensive, at that time, these were the only strategies of marketing that business owners used to increase their sales. With the advancement in the technology sector, the face of marketing has changed a lot; now, internet marketing has surprised everyone with its ability to attract potential buyers.
However, some businesses use the traditional method of marketing. However, online marketing and offline marketing are two different strategies of marketing.
However, both techniques can promote a brand, service, or product. This guide will explain the difference between online and offline marketing and determine the best.
What is Online Marketing
Online marketing is a marketing technique that uses the Internet to promote its services and products. It uses digital, online, and electronic methods to send messages to existing and potential customers.
Online marketing can be as simple as a social media source or as complex as a strategy that extends multiple modes of social media, email newsletters, websites, and other channels.
However, some of the primary marketing activities used by internet marketers are mentioned below-
● Search engine optimization
● Email marketing
● Social media marketing
● Content marketing
● Affiliate marketing
● Display advertising
● Paid search/PPC
● PR
● Video
Facts About the Popularity of Digital Platforms:
Millions of people use the Internet as a source of information, to connect with the world, make purchases, and so on. There are billions of internet and website users all around the world.
In addition, the number of active users of social media accounts is close to 1.5 billion, and around 95 percent of its users make online purchasing decisions influenced by it. People use search more frequently than any other online or offline resource; search is the first resource they use when looking for information.
However, many searches are for simple problems such as 'florists near me' or 'best restaurant near me.
On the other hand, some queries such as 'how to install antivirus software or 'how to format a laptop' can be complex. People are turning to search engines for solutions to their problems and collecting information.
Keeping this in mind makes it difficult for any business to stay away from online marketing and stick to traditional marketing strategies.
What is Offline Marketing?
Offline marketing can be defined as any marketing conducted without using the Internet. The offline marketing strategy uses offline channels to create and achieve traditional marketing goals such as developing ad campaigns and increasing sales.
However, some of the famous offline advertising channels include:
● TV commercials
● Billboards
● Radio
● Telemarketing
● Print media
● Telephone communication
Offline marketing is a traditional approach used before the Internet's invention. But many businesses still use it and want to maintain their market position.
The benefit of offline marketing is that it targets all types of customers. But over time, offline marketing methods have made various changes.
Nowadays, companies are using offline marketing strategies with their website, which is fixed with the company's online strategies.
Advantages and Disadvantages:
Both the online and offline marketing approaches have their pros and cons, so let's take a look at them:
Pros of online marketing:
● Online marketing is easy to evaluate and analyze
● It is budget-friendly
● It provides the business with a long-term exposure
● With online marketing, businesses can target only a specific audience
● Online marketing provides real-time outcomes
● It improves user experience
Cons of online marketing:
● Online marketing is becoming tough competition in this tech-friendly world as many companies are shifting towards it.
● It has become a fast-moving trend followed by every small, medium, and large business.
● Online marketing is time-consuming; you must dedicate many hours to creating content and using different techniques to promote your product or service.
Pros of offline marketing-
● Offline marketing is considered ideal for brand awareness and promotion at scale.
● It contains tangible materials, for example, business cards.
● As offline marketing uses radio and Tv as a marketing source, their product or service is promoted nationally.
● Offline marketing techniques develop trust quickly as you can see who they are.
Cons of offline marketing:
● Offline marketing techniques are pretty hard to measure compared to online marketing.
● Offline marketing is quite expensive
● Offline marketing approaches need time to show results
● Similar to online marketing, offline marketing needs time to create content.
From the above, we can assume that both the marketing techniques have advantages and disadvantages. However, it can be beneficial to combine both of them to get better output.
Online Marketing vs. Offline Marketing:
Till now, we have seen the difference between online and offline marketing techniques and have concluded that both of them have their advantages and disadvantages.
However, the significant difference between both of them is that one focuses on internet marketing while the other one includes all forms of marketing approaches.
However, considering the current scenario, online marketing is more valuable because, with the help of online marketing, it is easier to reach customers, which creates potential buyers.
Mentioned below are a few reasons why online marketing is more beneficial than offline marketing-
● Lower cost- In monetary terms, online marketing is more affordable than offline marketing. It is cheaper to run a website and display ads on social media platforms than to give a TV commercial, radio, or newspaper ad.
● Exposure- Offline promotion is limited to a particular area and cannot assure exposure. But with online marketing, there are no barriers as it can reach within seconds to any part of the world with the help of the Internet.
● Evaluation of results- With online marketing, one can easily measure view rates, conversion rates, and overall advertising effects with tools such as Google webmaster, Adwords information center, and many others. But in the case of offline marketing, one cannot measure whether the customer will make the final purchase.
● Target global audience- Content is the most effective way to create a brand. With the help of content, one can easily target the global audience as content reaches thousands of people daily, increasing its coverage. This is not possible with offline marketing due to certain restrictions.
Final Thoughts:
In the above article, we have discussed the difference between online and offline marketing. We have concluded that in today's world, online marketing can provide more benefits than traditional offline marketing approaches. Moreover, online platforms can help students search for anything related to any subject; they can also get marketing assignment help from various sites that provide assignment services.