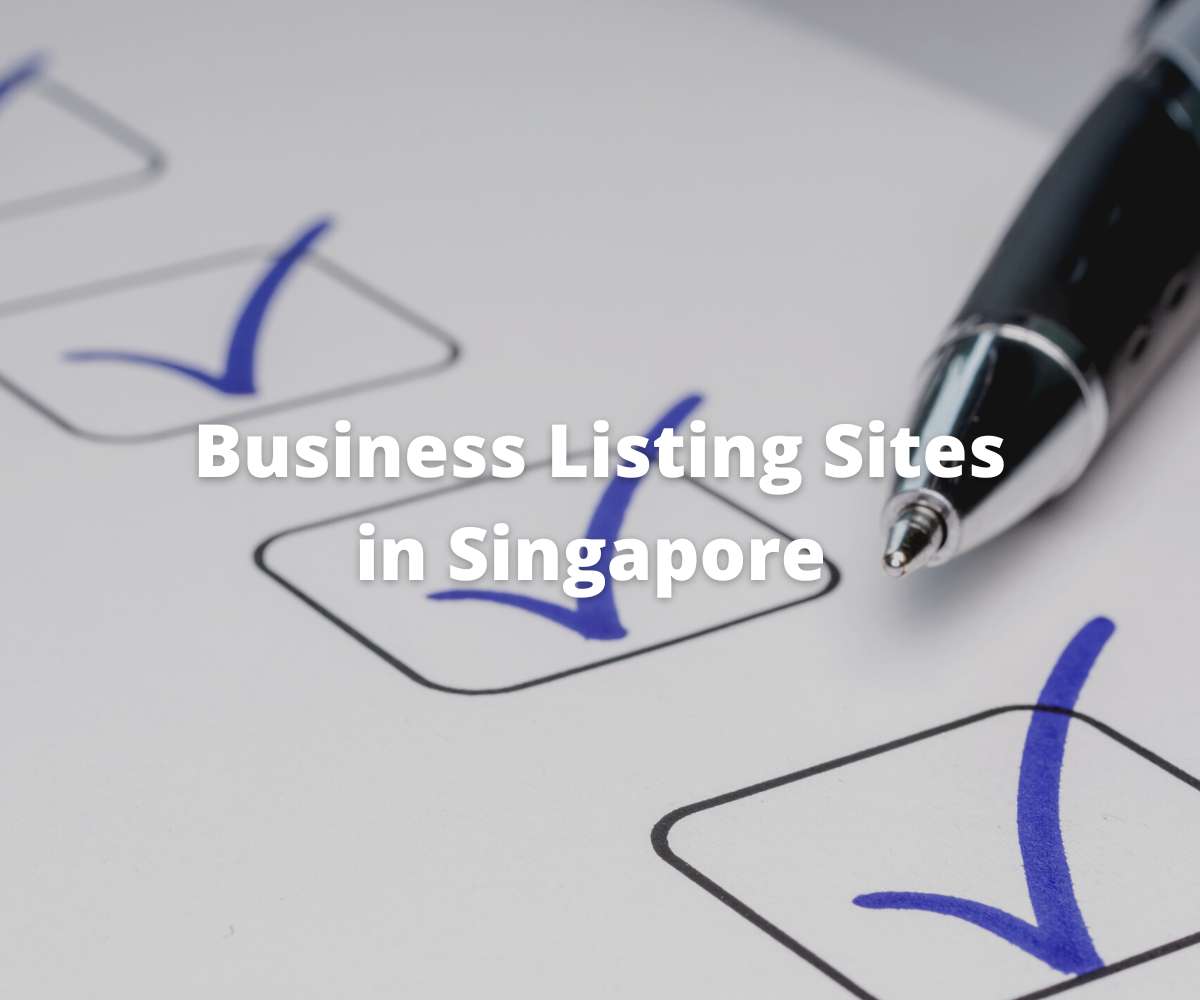 Free Business Listing Sites Singapore
Singapore has emerged as a hotspot for startup businesses. Looking at business listing sites in Singapore can give you an idea of Singapore's economic growth.
Thousands of local businesses are listed daily on Singapore business listing websites. There has been a surge in online business in particular.
It is now effortless to launch an online business or blog. As a result, more people are interested in starting their online businesses.
The number of small and local businesses is rapidly increasing.
You can't run a successful business in this digital age unless you have an excellent digital marketing strategy and SEO.
Because large corporations and businesses spend so much money on online advertising, it is becoming increasingly difficult to compete.
However, social media platforms and business listing websites make it a little easier to promote your business locally.
What is an Online Business Directory?
Except for listings that can be found on a website, an online business directory, like traditional Yellow Pages, contains listings of various businesses categorized by niche, activity, size, or location.
In most cases, online business directories provide critical information about a company, such as its name, address, contact information, and a link to its website.
WHAT ARE SINGAPORE LOCAL BUSINESS LISTING SITES?
You can target Singaporean residents by using the local citation sites in Singapore.
You must be aware of these websites if you operate a business or plan to do so soon. It enables you to establish a business profile with all the details about your company.
Typically, you can include your company name, phone number, address, and the products and services you offer.
In addition, you can include your company logo, client endorsements, pictures of your office or products, and anything else you feel should be pertinent to your target audience.
How to Do Business Listing in Singapore?
It would be best if you did several things before you may list your firm on any of Singapore's business directory websites.
Make sure to utilize your actual company name first and foremost.
Search engines can read all indicators, so make sure your firm's name corresponds to every element of your company—from the logo to the structure of your emails to your marketing and business goals.
What Does Local Citation Singapore Listing Mean?
Any online mention of a local business's name, address, and phone number is considered one of Singapore's Top Free Local Citations on several websites, including social media platforms, websites, and company directory websites in Singapore.
Local SEO citations may influence search engine rankings and help internet users find local businesses.
We list your company on Data Aggregators, high DA sites, and free local business directory websites.
Requirements Needed For Citation:
● Registered email account
● Proper business address
● Zip code
● Contact Details including phone number and business email
● Contact person detail
● Business keywords
● Business Category
● Business Description
If your company is based in Singapore, your company will be marked in Singapore.
Your company's website should be listed on several of Singapore's Local Business Listing and Business Classifieds sites.
An effective business owner must claim their company's online branding, regardless of whether it is a local or a global business.
WHY ARE BUSINESS LISTING SITES IN SINGAPORE IMPORTANT?
The sheer number of enterprises means that yours might not get the attention it deserves.
Your target market may still be unaware of your company. This deprives you of various chances and negatively affects your company.
As a result, business listings make it simpler for local clients to identify your company and get in touch with you about their needs.
If you offer quality services, your firm can expand and bring in more money and build a solid reputation.
Nowadays, almost any service or product can be found online. Before purchasing a product, the majority of people conduct a Google search.
In Singapore, people conduct millions of local business searches online. So you're probably aware of the importance and necessity of digital marketing.
There is no other option for competing with other businesses than digital marketing. It won't be easy to raise brand awareness unless you have a solid SEO strategy.
SEO should be your primary focus if you own an online business or blog.
There are numerous platforms available for promoting your company and products.
There are numerous platforms available for promoting your company and products.
However, the best way to promote your business without spending money is to list it on any Singapore business website.
It is the simplest method for increasing brand awareness and reaching out to potential customers. Sites that list businesses can also help improve search engine rankings.
Listing their business with URLs on business listing sites, online businesses, and blogs can improve their SERPs ranking.
Backlinks from business listing sites can help a website's domain authority (DA). Do-follow backlinks are permitted on the majority of Singapore business listing websites.
Furthermore, those business listing sites can provide you with free organic traffic.
What are the Benefits of Local Business Listing in Singapore?
Although business directories today don't contribute as much to a company's overall success as they did, there are still several advantages to listing your company.
Boost website traffic
Growing website traffic may be time-consuming and complicated for small businesses, especially new ones.
Without marketing, your website may significantly waste time, money, and resources. Listing your company on an online business listing site can be pretty beneficial.
Improves online visibility
Increasing the number of backlinks, also known as links redirected to a specific website, is essential for a website to rank higher on a search engine.
This is the situation where business directory linking is necessary.
By submitting your company to as many business directories as possible, you may boost the number of backlinks to your website, which will benefit its search engine ranking.
Increases brand awareness
You can raise brand awareness and increase internet visibility by putting your company on several business listing websites.
Customers will locate your company far more quickly, thanks to business directories. Your ability to communicate with customers more quickly and effectively is facilitated by having your online contact information.
Unique Features of Singapore Business Listing sites
Marketing is also an essential part of the success you can expect from using the Singapore business directory because it offers several marketing techniques to help you get noticed by others.
You can also share the links to your Business listing on social media, press releases, product submission sites, and many more.
The more you practice, the more exposure you will receive.
When you sign up, you might not know where to start or how to create a business profile.
By exploring the various available features. As an example, consider online customer service.
Another helpful feature is that every Singapore business website aids in the generation of more local business leads in Singapore.
The most popular website with a high ranking may be the best to include.
For starters, because it is most likely on popular search engines, it receives a lot of traffic, and people looking for popular services or products are likely to find them first.
Second, because it is hosted in Singapore, it can display Singapore results, making it one of the best free Singapore business listing sites available.
What are the main things you need to have before you have your business in the directory?
The main elements you should include in your business listing are determined by the type of business you run!
Always use your current company name for this type.
Search engines can read street signs, so make sure you structure your name fits your company's purpose, your marketing, your site logo, and how you respond to emails and phone calls.
Add no more search terms, geographical terms, or other modifiers to your company name.
Always include your address, with no changes or updates (such as fake numbers).
PO containers and unstaffed exclusive workplaces are not real-world details; you should not create small business outcomes for them.
While any directory's recommendations show a choice for regional community rule contact numbers, toll-free numbers have been reinforced for some years.
This is especially important for businesses like hotels: they are regional, but most of their customers come from out of town, so a toll-free number is highly convenient.
If you use a toll-free number rather than a regional one on your Google My Business profile, ensure that your website and all your details always use this number.
High DA Business Listing Sites in Singapore
In Singapore, there are several high DA business listing sites. Using high domain authority business listing sites for backlinks has always been a common SEO practice.
Most digital marketers employ this black hat SEO technique to increase the domain authority of their website (DA).
Backlinks from business listing sites used to impact search results significantly, but with recent Google updates, this has become less relevant.
Backlinks from high DA business listing sites are still powerful even though they are not a significant ranking factor.
The best part about backlinks from business listing sites is that they significantly boost your local search ranking.
When you list your business on Singapore business listing sites, people in your area will be able to learn about it as it appears in local search results.
The Singapore business listing sites below accept free submissions and have high domain authority.
If you don't want to spend money on advertisements, you can get more exposure by using these accessible Singapore business listing sites.
Why do I need Singapore business listings?
1. Google Citation building is still an essential part of local SEO, and having an accurate and relevant set of local citations is essential.
Google will consult directories and local listings websites to learn about a company.
If your crucial business information is listed accurately and consistently across the web, Google is more likely to regard you as an authoritative site.
2. The importance of local relevance
Local Singapore business owners should take advantage of relevant local citation sources.
While high domain authority sites are valuable, SMBs and multi-location businesses can gain more local authority by listing on popular sites in their area.
This is accomplished by listing on local niche sites such as event sites, local clubs and authorities, and hyper-local directories.
2. https://www.google.com/business/
3. https://register.apple.com/placesonmaps/
5. https://www.bingplaces.com/
6. https://business.twitter.com/
7. https://smallbusiness.yahoo.com/
8. https://business.pinterest.com/en/
9. https://www.crunchbase.com/
11. https://www.sgpbusiness.com/
14. https://www.streetdirectory.com/
15. https://www.yelp.com.sg/singapore
18. https://www.yellowpages.com.sg/
19. https://www.streetdirectory.com/
20. https://companyregister.sg/
21. https://www.timesbusinessdirectory.com/
22. https://sg.enrollbusiness.com/
23. https://www.yellowpages.com.sg/
24. https://singapore.yalwa.sg/
26. https://www.2merkato.com/directory/
28. https://www.timesdirectories.com/
29. https://www.brownbook.net/
31. https://www.singaporeadvice.com/
33. https://www.businessforsale.sg/
35. https://www.a1bizdirectory.com/
36. https://www.bizzduniya.com/
37. https://www.sgprocessindustries.com/
39. http://singapore-companies-directory.com/
40. http://www.expat-advisory.com/
41. http://www.allcompanyonline.com/
43. https://www.showmelocal.com/
46. https://singapore.yalwa.sg/
47. https://www.singaporebizdir.com/
48. https://www.timesbusinessdirectory.com/
50. https://www.yelp.com.sg/singapore
FAQ'S
1. What makes a good business directory?
The fundamental reason is that search engines value business directories with high standards, categorical organization, and comprehensive business listings.
Businesses can gain the confidence of search engines by being listed in these directories, which improves their results and drives more local traffic to their websites.
2. Why are local business listings important?
Thanks to a business listing, local customers will locate your local business quickly.
Maintaining a presence in local listing directories makes it easier for clients to find your business. You may cite as many sources as you like.
3. What is an online listing business?
Listings are your company's web entries. Their job is to make it easier for clients to find you offline and online.
They provide four short pieces of information that give prospective clients the fundamental knowledge they require: NAP+W. The acronym that sums it all up is NAP+W.
4. Why should I list my business in an online directory?
A company can promote its services or products to millions of potential clients through online listings without spending as much as it would with conventional marketing strategies like paid commercials.
5. Why is business listing important in SEO?
Because they give potential customers valuable information about your business, local listings are crucial for SEO.
Boost the local search visibility of your company. Boost your chances of dominating your neighborhood rivals.