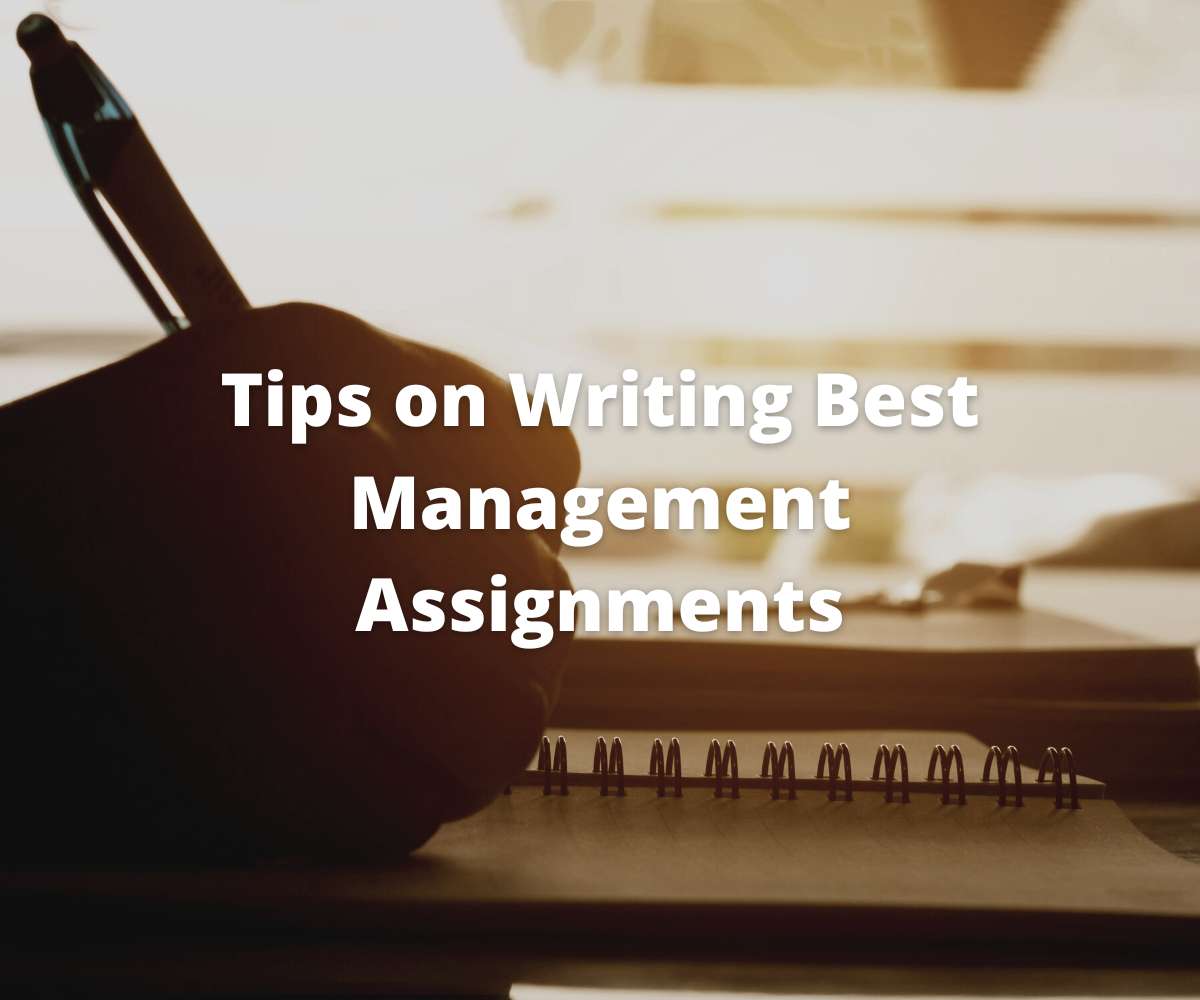 Tips on Writing Best Management Assignments
Every student at the time of their academic studies must submit an assignment by the colleges or universities.
Universities offer assignment tasks based on subjects like law, management, IT, nursing, etc.
However, depending on your stream, you will be given the assignment writing task, which you will need to write and submit according to the mentioned guidelines.
Suppose you are a commerce student; you will be assigned various management assignments throughout your course.
Professors in the commerce field usually assign students different management tasks from time to time.
Under the commerce stream, management is the most critical subject; hence, management assignment writing becomes crucial for students to get good academic grades.
However, most students are sometimes confused about how to write a management assignment.
The reason can be anything from not understanding the topic, the fear of completing the assignment before the due date, or they are not capable of gathering relevant information.
These reasons make them find the best platform to offer management assignment help services.
They look for experts who can guide them in completing their assignments and conducting proper research and relevant data, facts, and information.
However, this article will provide some tips to help you write the best management assignment. But before that, let's look at some popular management-related assignments.
Some Common Management Related Assignments:
All the professors from different universities provide their students with different management assignments timely during their whole course journey.
As you all know, management is a vast subject that covers various streams and includes numerous commerce-related subjects.
Below are some common management assignments that most universities prefer to assign their students.
1. Marketing assignment-
Under the marketing assignment writing task, students are expected to write about different ways of advertising and market research for a business selling and promoting products and services.
2. Finance and Accounting assignment-
Finance and accounting are the two core subjects of the commerce stream. In both the assignments, the students are expected to provide in-depth information about both topics.
3. Human Resource Management assignment-
Human resource is a crucial part of any organization. Under this, students must mention the best training process, recruiting, selecting, providing orientation, etc.
4. Brand management assignment-
However, brand management is related to marketing strategies that help to increase brand value with various techniques. Students under this assignment have to mention those strategies.
5. Strategic management assignment-
Strategic management refers to planning, analyzing, assessing, and monitoring the information required to fulfill the organizational goals and objectives. Under this assignment, students need to mention all the strategies.
Best Tips On Writing Management Assignments:
As we have discussed above, some students are still confused about how they can write practical management assignments and look for assistance.
Here, we have mentioned some tips to help them write practical management assignments.
1. Review the deadline-
36When professors provide the assignment task, they also mention the guidelines, which include the submission date.
So before you start writing, check for the deadline to know how many days you have to write the assignment so that you can plan your next step according to it.
Timely submission is necessary to achieve good grades in the academic writing task.
Moreover, the submission deadline will also let you know what you have to complete your research task.
2. Draw your plan-
After you know how many days you have to complete the assignment, your next move should be to make a plan for writing an effective and successful management assignment.
But before making out your plan and starting writing the assignment, you must read the guidelines and instructions carefully provided by your professor.
3. Analyze the question-
Usually, every college professor provides the assignment writing task from time to time.
But the students seeking higher studies in the universities are given the assignment in the form of questions, and these students are required to answer the questions through their assignment writing.
So before you start writing the assignment, read and understand the questions carefully.
If you have any doubt, contact your professor and ask for help.
Once you are clear with your assignment questions, you can answer quickly.
4. Design an outline-
Whenever you write an assignment, first of all, you should draw a perfect outline for the assignment.
The outline provides a structure that you can follow while writing your assignment.
However, the outline area is too broad, but you need to choose one of the best outlines according to your assignment type.
Before drafting an outline, check your assignment's question and marking schedule. When you draw a perfect outline structure, it becomes easy for you to write an assignment.
5. Search reliable and relevant information-
Once you know what questions or on what topic you need to write, your next step should be to gather the necessary information, which needs to be reliable and relevant.
You can use different sources to get sufficient information about your topics, such as books, magazines, online sources, and newspapers.
You can start writing your assignment only when you are ready with all the necessary information.
6. Edit and Proofread-
If you want to create an excellent and effective assignment and make your assignment writing task complete, then you must proofread it.
Proofreading any assignment is necessary to make your writing error-free. Proofread enables you to avoid grammatical mistakes and spelling mistakes.
Moreover, you can also check whether your assignment is unique and plagiarism-free.
At the time of proofreading, you need to check your assignment word to word and if you find any mistakes, correct them immediately.
Key Points To Remember While Writing The Best Management Assignments:
Start writing your management assignment earlier and ensure you write every sentence. Your assignment should look excellent and well-written.

Write each section of your management assignment according to the outline you have designed.

Always start writing with the introduction part, where you should be able to mention an overview of your topic. Your introduction should make your reader understand what they can expect from the rest of your academic paper.

Then include the main body where you can explain in-depth information about your management assignment topic.

At last, add the conclusion part where you need to mention effective closing sentences, which helps you to close your writing quickly.

However, while writing, you need to remember that you are writing an academic paper that is expected to be written in a formal language. So avoid using complicated and unnecessary words and phrases.
Final Thoughts:
The above article lists all the possible tips to help you write an effective and meaningful management assignment.
You can quickly write and accomplish your assignment writing task using the above tips. However, you can also get help and guidance from the platforms that offer support and services in assignment writing.
Author Bio:
Antonio Williamson is an author who helps provide the necessary support and guidance to students seeking assignment writing help.
He works as an assignment helper and helps students with various assigned tasks.