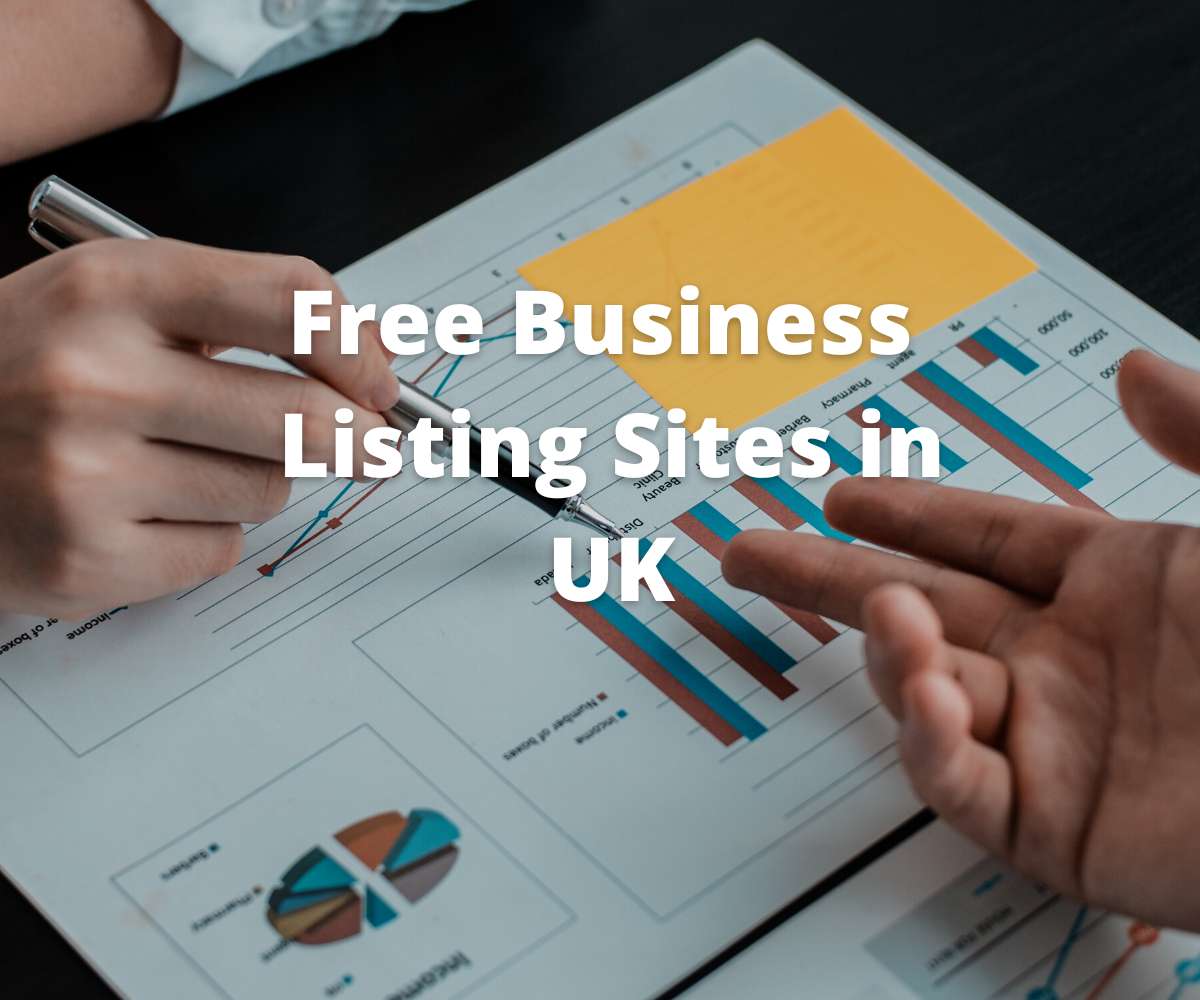 Free business listing sites in the UK
Choosing the best listing website in a country like the UK can be a difficult task because it necessitates extensive research. Using the listing website, you will be able to improve the ranking of the business website.
It has become a significant component of marketing strategies. Ensure that you find a suitable listing site where you can enter the company's information.
The United Kingdom is a gathering place for business owners. The UK government promotes entrepreneurship and assists businesses in growing. According to recent data, the number of businesses in the United Kingdom has increased by 2.4 million since 2000.
This indicates an increase in the demand for goods and services. If you are starting a business in the UK, you should prioritize digital marketing.
What Is An Online Business Listing Site?
The old paper directories that used to arrive via post every year have been replaced by online business directory sites in the twenty-first century. Some websites will focus on a specific market, such as displaying all companies that provide house removal services in the United Kingdom.
Others will take a more geographical approach, examining all firms in a town or county and categorizing them.
Suppose you've just started a new business in the UK. In that case, these local citation sites list UK will assist you in getting your company included on the city's top UK business listing sites and adding your business to UK listings.
This will enable you to promote the word about the company and get free branding without spending any money. Nothing beats a company listing website for boosting your website's search engine rankings.
It is known as one of the most effective methods for promoting your company. Make sure you're only creating a profile on websites with high authority. It is a pretty ideal strategy for attracting a large number of customers.
Essential to Local Business Directory Listings
The most crucial factor to consider when listing your company in local business directories is its location. Using the correct postcode allows customers to easily find you on a mapping tool and filter search results to only show companies near their home or business.
It may seem obvious, but double-check that you are using the correct postcode and have not mistyped or entered a home address instead of a business address. Another aspect to note is how you represent your business in the listing.
Most will restrict the number of items available for advertising, so take your time and get as much information about your products and services as space allows.
UK SMALL BUSINESS DIRECTORY:
As a UK business owner, you should always set aside money to improve your company's internet profile. Listing your business in the UK Small Business Directory with your NAP details is easy to make your business visible to a UK audience.
Directory submission for your business website can raise your company's online presence and help you improve your website's authority.
How Do I Get Started with Online Directories?
Although search engines have automated software that scans the internet in search of new websites and tries to comprehend what they're about, the same cannot be said for online directories.
If you wish a company to be listed in a particular directory, you must go to their website and request a listing. This isn't difficult, and it usually entails filling out a brief web form with basic information about your company, its products, and your contact information.
You'll also be asked to select the industry category that best describes your company and offer a brief description of your items.
Choosing Which Free Online Directories to Use
With various possible business directories freely available, how do you understand which ones are worth ranking in? It's impossible to be listed in all of them, and listing yourself in directories unrelated to your geographic area or business niche may count against you.
It's worth dedicating a little more effort and time to investigating what is available and identifying wisely. A basic Google business listing is an excellent place to start, followed by a look at what your competitors are doing.
We don't recommend copying everything they do, but you should also be if all of your competitors are listed in a particular directory. Continue to review your directory selection to ensure that your strategy is effective.
How Do I Know if Online Sites Are Working?
Most small businesses with a website use Google Analytics to track where their clients come from; if they don't, they should. This software can inform you how people find your website and how much traffic you get from the various directories you've listed yourself.
This is a continuous process; depending on where your traffic comes from, you may need to refocus your efforts over time. Again, we're here to assist you if you don't have the time.
Another significant benefit of being featured on a respected internet business listing service is that it might increase your site's visibility. Because Google gives sites featured on reliable listings sites a higher position, your advertisement may help push your site's links further up the results page on Google and other search engines.

Why List on Free Local Business Directories
These directory mentions are used as SEO trust signals by search engines such as Google and Bing. Consistent mentions of your company will help boost your search engine rankings.
Listings must be consistent across all free directories to which you submit your business. Include your company's name, email address, and phone number. You can also include images of your work, office, and team.
How To Submit Business Profile On Uk Business Listing Websites
It's pretty simple to submit your company profile. However, your company must be registered in one of the following countries: England, Scotland, Wales, or Northern Ireland.
Your application will not be accepted if your business or firm is not registered in these regions.
Some of these company listing sites, on the other hand, allow businesses from all over the world to register. Some of these directories only accept submissions after businesses have been verified. The majority of the websites listed below are free.
Free backlinks are available on all of these UK company listing sites. In your business profile, you must include one URL.
The registration procedure is the same for all business listing sites. Free local citation sites may take a few weeks to approve your business profile.
Open the URL of a business listing site from the list below. To have your business listed, go to the signup or register page. Include all needed information, as well as your company's email address.
After you've finished filling out all of the fields, click Submit. You will receive a confirmation email after submitting the form. OTP is also sent by several companies listing sites to validate verification.
Once the verification procedure is completed, you can add your business information to the business directory sites.
If your company is already listed on the site, you must now claim your listing.
Here are some crucial pointers to remember while submitting your company:
● Use a business email address to sign up.
● Follow the site's guidelines.
● Do not utilize content that is protected by copyright; instead, include all relevant details.
● Verify your profile with an email or a one-time password (OTP).
● Include your company's logo.
● Please submit to the appropriate business category.
● Do not spam.
● Also, include the URL of your official website.
Importance of Business Listing Sites In The UK
● Increase your company's internet visibility in the UK and worldwide.
● After submitting regular citations on various UK company directory sites, improved rankings are specific.
● Search engines frequently propose that prestigious, high-quality citations be crawled.
● Build a robust online presence for your company across the UK's digital network and beyond.
● There will be a more significant number of potential customers.
● Including a business directory is one of the essential things you can do as a business owner. The appropriate listings can help you generate sales leads without spending much money.
● Check the stats of your sites before submitting them to any UK local citation sites, and make sure this sicopyepts UK listing is correct. The majority of the UK website's domains end in. Extension to the United Kingdom
● Backlinks with high authority can help your website rank better in search results. Business directory sites are the simplest way to obtain free, powerful backlinks.
● Having strong backlinks can assist your website in ranking higher in search results. The simplest way to obtain free powerful backlinks is through business listing sites.
● Most business listing websites in the United Kingdom have high domain authority. Backlinks from these UK business directories are potent and can significantly improve your off-page SEO.
● Most listed websites receive thousands or millions of visitors each month, so if you have implemented suitable conversion optimization systems, your website can attract more traffic and potential sales.
● Based on our SEO experience, we believe that business directory listings are the first thing you should do as part of off-site search engine optimization.
So, when submitting your sites, keep in mind that you have chosen the free version; otherwise, your default option is paid. You can also get local users interested in your business through business listing sites, which will help your business grow.
There are listing sites that offer Worldwide business listing sites, so you can submit your UK business sites with the correct details here. This listing also allows you to find your business competitor who competes with you.
If you are looking for Free Business Listing Sites in the UK, we can provide you with a list of UK business directories that are entirely functional. If you are starting a new business, you should be listed in a local business directory to get direct customers.
1. Punnaka.com
2. https://www.uksmallbusinessdirectory.co.uk
3. http://www.expressbusinessdirectory.com/
4. https://directory.independent.co.uk
5. https://www.thetradefinder.co.uk
6. https://mapsconnect.apple.com
7. https://www.guestblogging.pro
8. https://gb.enrollbusiness.com
9. https://www.misterwhat.co.uk
10. https://www.find-us-here.com
11. https://www.infoisinfo.co.uk
12. https://www.justlanded.com
13. https://www.touchlocal.com
14. https://www.2findlocal.com/
15. https://www.cylex-uk.co.uk
16. https://www.tomtom.com
17. https://www.scoot.co.uk
18. https://www.spoke.com.
19. https://www.yelp.co.uk
20. https://storeboard.com
21. http://tipped.co.uk
22. https://b99.co.uk
23. http://tupalo.com
24. https://ibegin.com
25. https://aboutus.com
26. http://where2go.com
27. https://www.192.com
28. https://www.n49.com
29. https://www.yell.com
30. https://used-line.com
31. https://www.kbb.com
32. http://uk.bizadee.com
33. https://www.cybo.com
34. https://parkbench.com
35. http://searchme4.co.uk
36. http://newseosites.com
37. https://www.zillow.com
38. https://citysquares.com
39. https://www.idealist.org
40. http://www.lacartes.com
41. https://www.tuugo.co.uk
42. https://www.walgreens.com
43. https://www.whodoyou.com
44. https://www.thumbtack.com
45. https://www.carsforsale.com
46. https://www.dataaxleusa.com
47. https://directory.allworld.com
48. https://www.showmelocal.com
49. http://connect.releasewire.com
50. https://www.callupcontact.com
Business listings are the core of your online presence. The first step in your marketing strategy should be registering with accessible business listing sites.
Therefore, these are all the websites on which you can list your company for free. Proceed with something like a business listing and understand digital marketing before going on.
Frequently Asked Questions
1. What is the best way to improve website relevancy?
SEO always begins with considering what your customers might type into a search engine when looking for your company. If you sell cakes and cookies, for example, use headings and content on your website that help Google understands what your business is about.
If you want to dig deeper into keywords, several keyword research tools are available, including Google Keyword Planner, SEMRush, and Ahrefs. Ensure that your identified keywords are used in your title, header, and alternate text.
2. Would buying backlinks work?
We've all seen the offers on freelance websites for 50 backlinks to your website for $5. Google, on the other hand, frowns on link-buying, and if you're caught doing it, your website will drop rapidly in the rankings.
If you purchased backlinks in the past and are now suffering, your only option is to remove the links and request that Google re-analyze your website.
The best way to move your website up the rankings is to concentrate on the content you provide. Consider getting relevant, well-known bloggers to link to your content on their blogs.
3. What is SEO, and do I need it?
SEO stands for search engine optimization, and it is a method of ensuring that customers interested in your website see it when they type a relevant term into a search engine such as Google. A prominent listing on a search engine means more customers will find your website.